Bangkok Gems & Jewelry Fair /
News & Update
News & Update
Thailand as the world's heartland of silver
The image of Thailand's silver jewelry industry became significant four decades ago when it started to export a considerably large volume of silver jewelry products to the world market. Ranked the world's third largest exporters, this Southeast Asian nation enjoyed 1.69 billion US dollars of export value or 10.52% of the world's total silver export in 2021.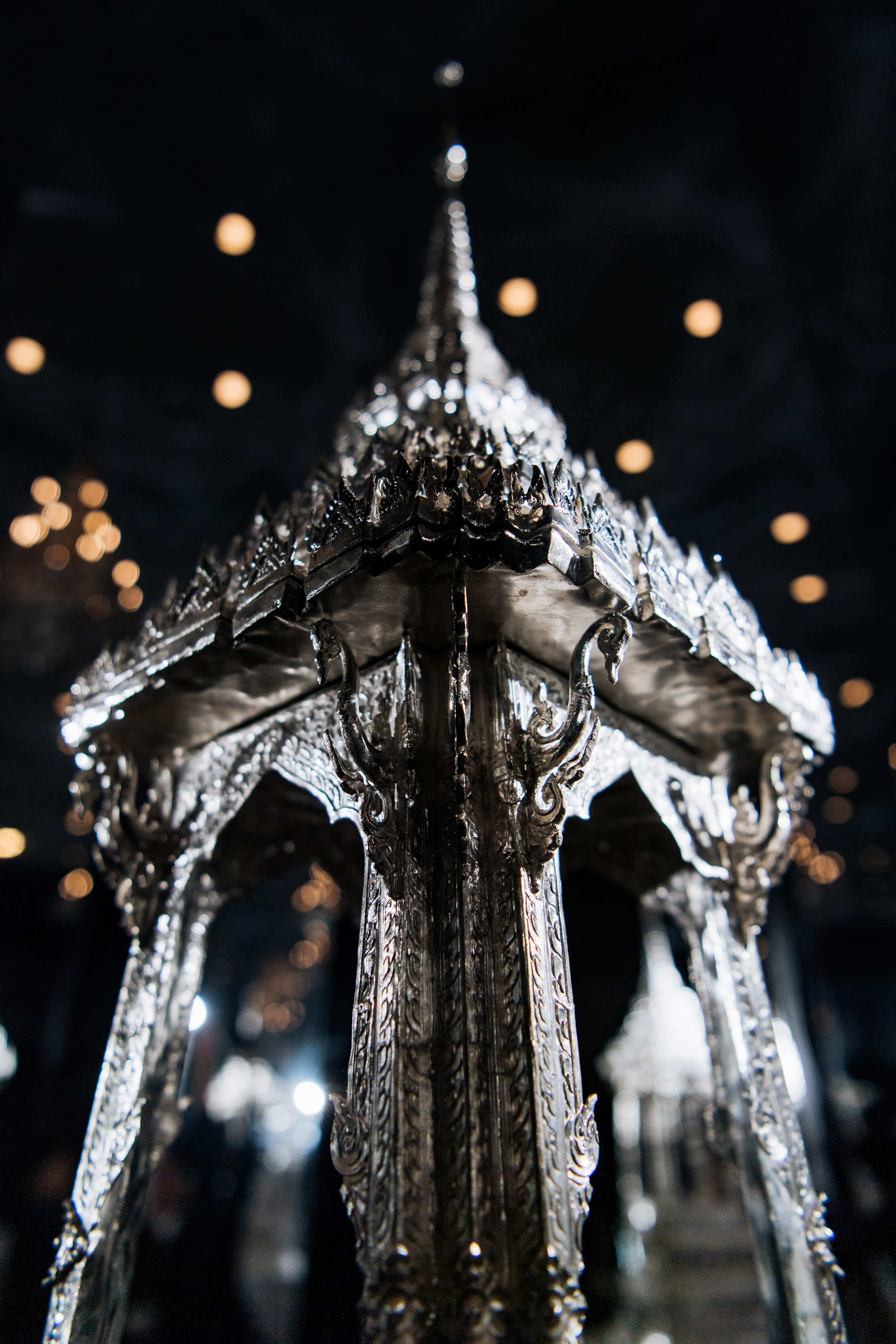 With these sizable exports, Thailand has achieved its goal of positioning itself as the silver jewelry design and manufacturing hub of the region as seen in numerous silver manufacturing communities in Thailand where local artisans are known for their cutting-edge methods and extraordinary techniques passed down through generations, resulting in premium-quality silver jewelry. Also, Thai artisans are renowned for their production of highest quality silver jewelry.
Thailand's impressive silver districts are located all over the country — each with uniqueness and creativity of its own:


Chiang Mai
The silver community and silver street of Wua Lai is famous for its silverwares by the hands of Shan people. Products available include various designs of utensils or necklaces. Along the Wua Lai street, shops are seen showcasing their silver discs with embossing art. Demonstrations of manufacturing procedures are commonly seen on the street to give buyers an idea of how exquisite the Wua Lai silver is. The silver street is located right at the heart of Chiang Mai town.
In the vicinity of Si Suphan silver temple lies the Si Suphan Community Enterprise, which was set up following the government initiative of 'One Tambon One Product' scheme — a local entrepreneurship stimulus program aiming at providing support to locally-made and marketed products of each Thai sub-districts all over the country. Currently, the enterprise offers a wide range of silver jewelry products from member ateliers, shops, and artisan groups in the community.|


Nan
The northern province of Nan is an exceptional silverware production source of Thailand with a long history of local techniques and wisdom passed down through generations. The famous Chomphu Phukha silverwares are handicrafts of Mien and Hmong artisans who carry on skills in making silverwares from ancient times. Their products bear unique patterns and intricate craftsmanship. Featured products include necklaces, bangles, earrings, rings, hairpins, and belts. Apart from body jewelry, Chomphu Phukha silver is also manufactured in the form of utensils such as bowls, jars, ladles, and trays.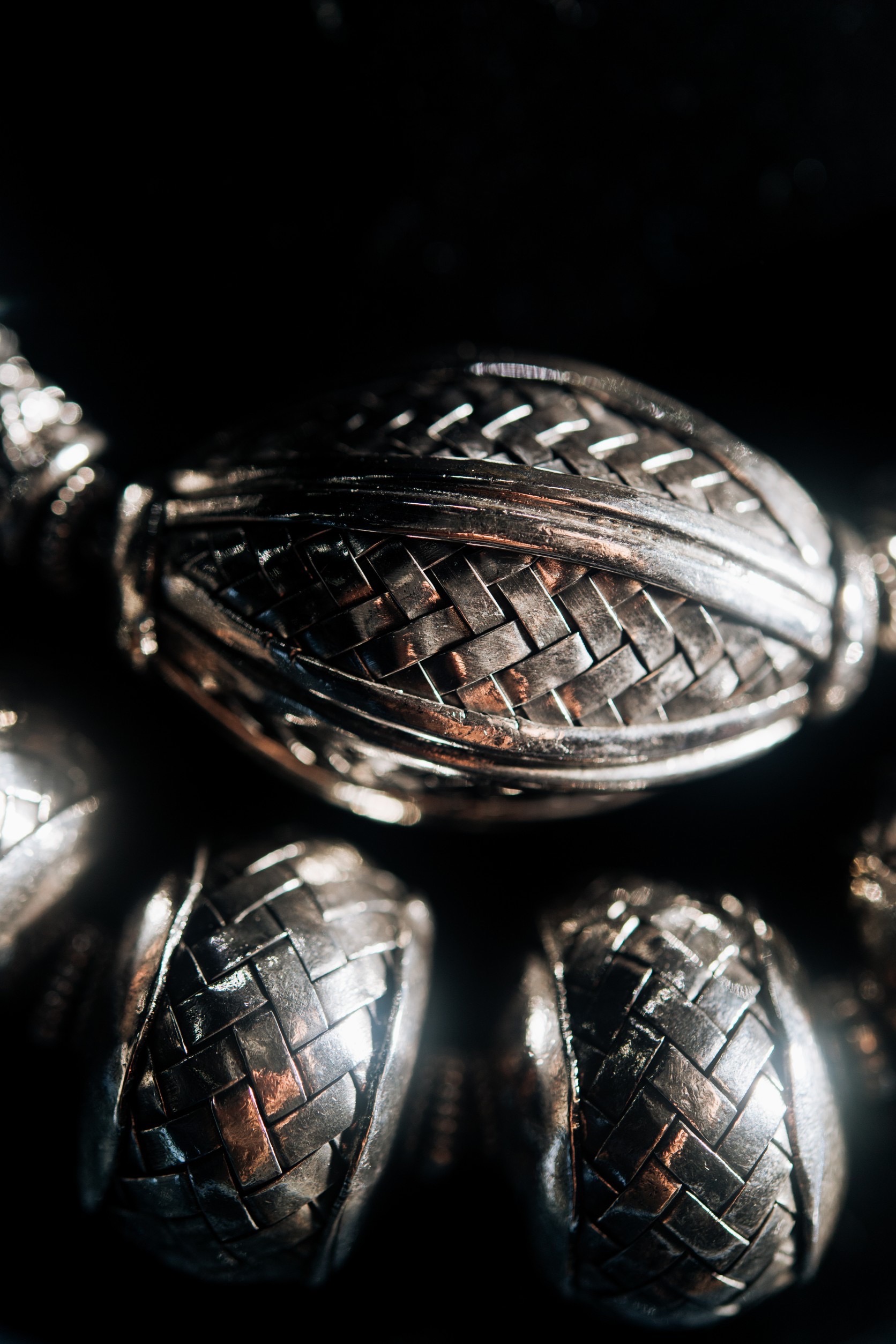 Sukhothai
Sukhothai silver is the folk culture of the local community in Sukhothai's Si Satchanalai district, which casts a reflection on the elaborate mastery of silverware in the forms of earrings, bracelets, and necklaces. The 99.99% silver made in Sukhothai is treated with heat and is robust. Well known for its hardness, resistance to fire, impact, erosion, moisture, UV, scratch, and chemicals. Shops in and around Si Satchanalai district of Sukhothai sell Sukhothai silverwares, traditional silver weaved handicrafts from professional local craftspeople. Each woven silver piece is carefully and exquisitely designed. Tailor-made and customized orders and designs can be fulfilled here.


Surin
Ban Chok Silver Handicraft Group offers genuine silver jewelry products such as necklaces, pendants, rings, and bangles with local unique patterns. The group is a retailer and wholesaler, which also accepts orders of customized silverwares.
Lung Puan Traditional Silverware Community Enterprise is a retailer and wholesaler of one-of-a-kind 'pakueam' (string of silver beads), silver necklaces, silver earrings, silver bangles, and silver belts produced by artisans with over 40 years of experience. Their products are exquisite and maintain traditional distinction.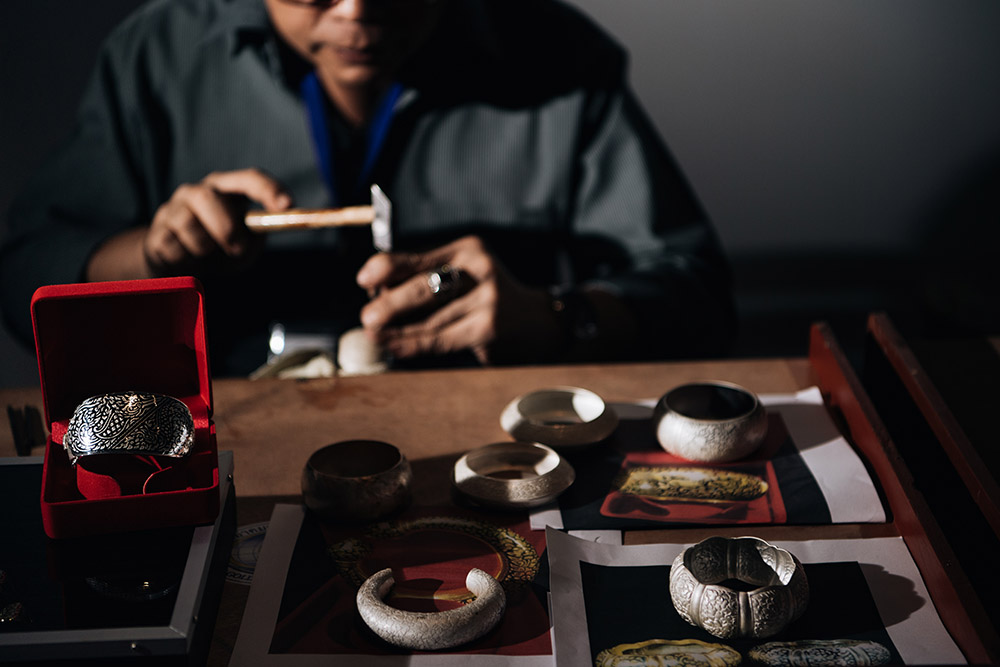 Nakhon Si Thammarat
Nakhon Si Thammarat takes pride in rare and unique handicrafts seldom found elsewhere in Thailand. Apart from nielloware, the province is also known for its highly prized silver jewelry. Showcased items include rings, necklaces, bracelets, bowls, pedestals, and trays. The best area for silver quest is the community around Wat Phra Mahathat Varamahavihara.


Silver of Thailand: now and beyond
With more advanced technologies and innovations, more and more silver entrepreneurs in Thailand are turning their focus towards ways to add value to their products. The shift from OEM (Original Equipment Manufacturing) to OBM (Original Brand Manufacturing) is growing more common among modern entrepreneurs, featuring more unique and modern designs and minimal looks, making Thai silver products wearable in a wider range of occasions.
Furthermore, many foreign entrepreneurs are now eyeing Thailand as their production base for silver jewelry products, thanks to state-of-the-art manufacturing technologies, intricate craftsmanship, trendy designs, and competitive OEM/OBM services, and this is why the Thai silver jewelry industry is the world's finest.